Instant Visibility Across Your Clinical Engineering Supply Chain
Manage your day-to-day operations from one dashboard
The lack of supply chain resiliency across healthcare organizations often stems from poor visibility, specifically a lack of quick access to centralized, consumable, real-time data from dispersed data sources and siloed systems. With PartsSource's Operation's Dashboard, supply chain and clinical engineering leaders will gain instant visibility to data to help prepare for unexpected risks and quickly respond to supply chain disruptions that may impact clinical availability and patient safety.
"PartsSource is continuously innovating to help me be proactive. This latest innovation gives me visibility across my operation in real-time, the ability to monitor the lifecycle of my clinical supplies and to respond with a resilient supply chain – all in one place. No other partner offers this level of service or insight."

Charles Verzi Corporate Director HTS
Ballad Health
The PartsSource PRO Operations Dashboard provides visibility into your parts and service orders to better manage and prioritize day-to-day activities and improve equipment uptime.
PartsSource PRO customers can access the Operations Dashboard through the My Account drop down menu.
Improve Efficiency
One centralized, holistic view into your HTM and Supply Chain activity.
Efficiently rack, evaluate, and optimize quotes, open orders, orders details, services, depot repairs, and return/exchanges.
Drill down by Modality, Category, Location, Requester, and Role (Director, Manager and Technician).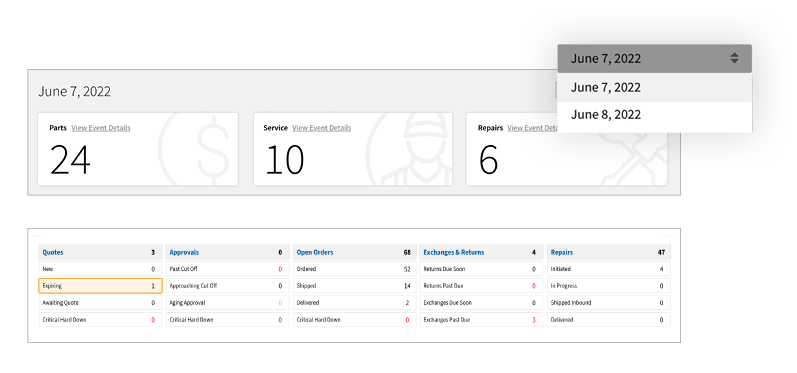 Reduce Risk
View backorders, shipping, priority and critical hard down order updates to take quick action.
Manage by exception to quickly mitigate or realign priorities.

Save Time & Reduce Costs
Spend less time looking up status updates on multiple screens.
Monitor shipping status and see exchange reminders from within the dashboard to reduce costs and avoid penalties.