CLEVELAND, May 13, 2022 The Healthcare Technology Report is pleased to announce the Top 50 Healthcare Technology CEOs of 2022. This year's list comprises a wide array of some of the most accomplished executives in the healthcare technology industry. They have led their firms in advancing and revolutionizing healthcare solutions, spearheading innovations in patient experience and software platforms, medical devices, therapeutics, and other areas.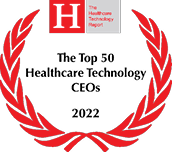 This year's awardees have also impacted the broader global community through their efforts beyond their organizations. Many are professors, or board members of associations and other companies advancing the healthtech field, or generous philanthropists. And in addition to overseeing their companies' operations, nearly half either founded or co-founded the company they lead. They come from a variety of backgrounds and have wide-ranging professional histories, but they share at least one thing in common: they have all led their company to new heights through their dedication, ingenuity, and commitment to both their employees and their customers. Please join us in honoring The Top 50 Healthcare Technology CEOs of 2022.
Philip Settimi, MSE, MD, serves as President and Chief Executive Officer for Ohio-based PartsSource, whose pioneering evidence-based supply chain software platform and vertical marketplace serving mission-critical healthcare operations has been adopted at more than 3,500 hospitals and 15,000 clinical sites worldwide. Under Dr. Settimi's leadership since 2014, PartsSource has developed the industry's first Clinical Resource Management platform that uses patented algorithms and 3 billion data elements to maximize the safety, reliability, productivity, and cost-effectiveness of the medical device supply chain. During this time, PartsSource has earned ISO 9001 and 13485 certification, and extended improvement insights on product quality, logistics, and customer experience to thousands of suppliers and OEMs in the healthcare ecosystem. PartsSource's growth and financial results are similarly impressive, and the firm was acquired to great acclaim by Bain Capital in 2021.
Dr. Settimi has also served as a member or advisor to numerous boards of healthcare technology entities, and as an operating executive to multiple leading private equity firms. He has held diverse leadership positions in public medical device and HCIT companies including Hillrom, Hospira, and GE Healthcare, and he holds numerous patents related to EMR-usage to enroll and conduct clinical studies in medicine. He received his Bachelor of Arts in Economics as well as a Master's in Biomedical Engineering and a Doctor of Medicine, all from the University of Michigan.